NORKA PORTABLE X-RAY INSPECTION SYSTEM
NORKA is a unique portable X-ray inspection system with a minifocus and microfocus constant potential X-ray sources. The voltage can be adjusted from 20 to 160kV. This allows to inspect objects made from di erent materials with di erent density and thick- ness (20-70kV is the optimal voltage for checking mail and thin objects, while 100-160kV works best for baggage and thick objects). One of the NORKA's advantages is its ability to inspect areas of an object in high detail using geometric magnification (up to 40 times if used with the RE-150MN X-ray unit). Unlike 1 mm spot used in conventional portable X- ray systems, this X-ray unit has a 30-micron focal spot. The resolution power attains an unprecedented value 25 microns of copper wire equivalent. Moreover, the distance between the object and the X-ray source can be minimal, down to a few centimeters or even a few millimeters when using geometric magni cation. 
IDENTIFiCATION OF ORGANIC AND NON-ORGANIC OBJECTS-
The images are shown on the display of the control unit in a positive/negative form, pseudo colours, with enhanced contrast or in dual energy mode. Zooming in on any of the nine areas of the screen allows better identification. Obtained images can be stored in the memory of the control unit for further investigation or reference (up to 30,000 images). Storedimagesca- nalsobeeditedandprovidedwith additional text, graph- ics and voice information. If necessary, these images can be copied from the directory of a ''BU-4'' control unit to a USB flash drive. Universal power supply (85 – 240 VAC 50/60Hz) ensures easy operation anywhere in the world. This is the only system on the market that works at the tem- peratures ranging from -20°С to +50°С with humidity level of up to 90%. The NORKA X-ray system is deliv- ered in two handy carrying bags or in a single case. 
NORKA has a wide range of applications in customs services, law enforcement devisions, airport security and other areas. 
APPLICATIONS: 

The NORKA X-ray system is easy to use, reliable and completely safe to operate. It provides excellent detecting capability with no harmful effects to its users or service personnel. 
M-ION EXPLOSIVE VAPOR AND TRACE DETECTOR
M-ION can detect and identify a wide variety of explosives including pure explosive and composite explosives under di erent humidity and pressure conditions in vapour and trace (particles mode). The list of explosives includes TNT, RDX, C4, Sem- tex, PETN, ANFO, EGDN, Nitroglycerine (NG), Dy- namite, DNT, Black Powder , Ammonia and Urea nitrates, HMTD, Tetryl and mixtures thereof. The cost of M-ION's ownership is very low, as special consumables are not required. Regular aluminum foil napkin are used for surface wiping. M-ION operates on Field Asymmetric Ion Mobility Spectrometry principle. M-ION does not contain any radiation sources. Corona discharge functions as the source of ionisation. M-ION has function of user authorization with the di erent access rights, the internal memory allows to save more than 100K results of analysis. M-ION does not require a special calibration. M-ION is equipped with a special electrostatic valve for filter- ing the ions by their polarity. This valve significantly reduces false alarm rate from non-explosive materials. M-ION warm up time is less than 1 minute. M-ION is easy to use. It doesn't require any special training. Presence of explosive in the sample is visualized on the device's LCD display or on any Wi-Fi device that can work as a remote control. M-ION is efficient both indoors and outdoors at temperatures above zero. 
SUV AND VEHICLE X-RAY INSPECTION SYSTEM PORTAL-AUTO
PORTAL-AUTO is a unique stationary or drive- through vehicle screening system designed for the inspection of illegal objects inside vehicles, large size pallets, etc. It can detect smuggled goods, including plastic weapons and explosives, drugs, or radioactive materials. The main components of the system are, the X-ray generator, which emits a high energy X-ray beam, and a highly sensitive U-shaped detector. The dual energy technology (optional) provides au- tomatic colour coding of materials according to their e ective atomic numbers. 
The PORTAL-AUTO system combines high penetration and low radiation dosage. The system can be integrated not only in a tempera- ture controlled permanent or solid built infrastruc- ture but, uniquely, in a 20ft. container or a tent, and is intended to operate 24/7. The system automatically inspects vehicles without driver placed on a vehicle moving system. Images are transmitted to the remote control room for further examination. Due to its mobility, if set up in a 20ft. container, PORTAL-AUTO is ideally suited to work at border crossings, security checkpoints, as well as at seaports and airports, security sensitive areas such as goverment/ commercial sites, military and law enforcement HQs/ structures. 
THE SYSTEM LAYOUT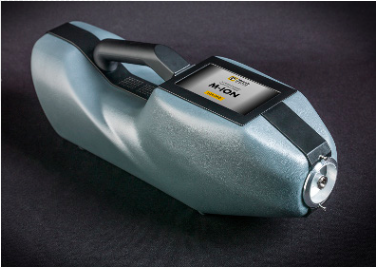 Explosive Vapor and Trace Detector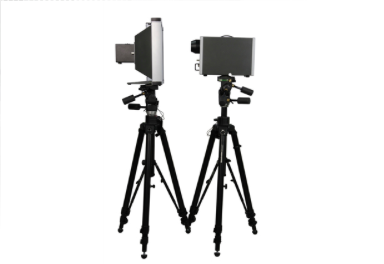 Portable X-Ray Inspection System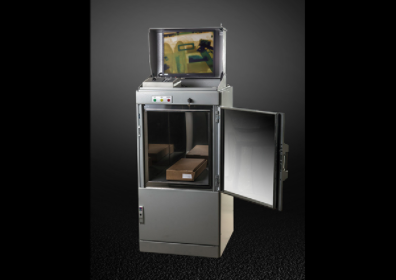 Office X-Ray Inspection System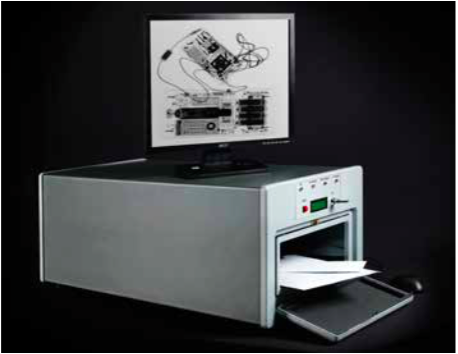 Mail Desktop X-Ray Inspection System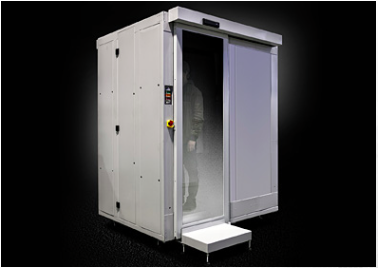 Transmission X-Ray Body Screening System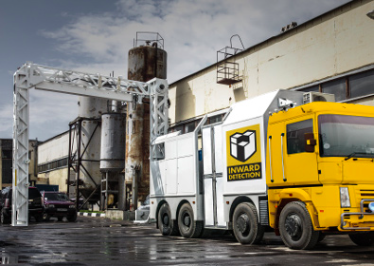 Mobile X-Ray Vehicle Screening System